Anyone that knows me, knows I have had my hair every color of the rainbow, literally, including teal and violet. I have also had every haircut as well. LOL. Including half my head shaved bald. Yes I have always been adventurous with my image, why not? Live a little!
Anyway, my current goal is to grow it as long and as healthy as I can. I will probably grow it to my calves. Many people think long hair is a hassle, but truly, SHORT hair is a hassle because it needs to be style everyday in order to look good. With long hair, if you are in a pinch, you throw it into a pretty bun in 2.5 seconds flat - and get on with your day.
I joined a community called longhaircommunity.com and they are some of the friendliest helpful people around. I have learned so much there and thank them every day for my healthy hair.
I shudder thinking of the years of damage and chemical processing I have done to my hair. I would dye, highlight, blow-dry, flat iron, curl, try all kinds of expensive products without blinking an eye. But then I would turn around and complain about the texture of my hair being so dry and damaged.
The thing I have learned about beauty care as I get older is; the simpler your routine is, the better and healthier it is. It is also best to learn your specific hair type and really you will have a time of trial and error. I have naturally very wavy dry hair, which craves moisture.
Before natural haircare photo:
After Natural Hair care photo!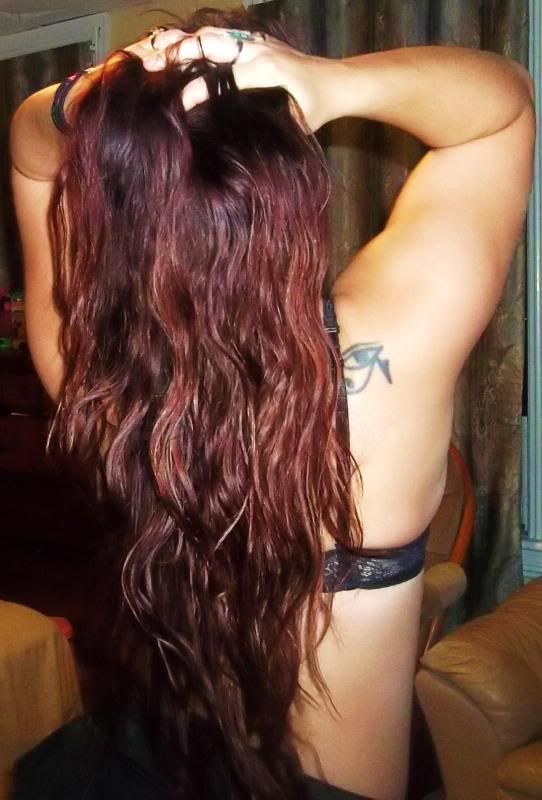 Tips to maintaining healthy hair:





Do not wash your hair everyday:

If needed, use baby powder for your greasy roots for in-between washing periods. One a week is ideal, however, even I cant go that long, I wash every 3 days.



Do not rip brushes thru your hair.

No matter how tangled your hair is, you are causing major damage! Use a small amount of 100% organic/natural coconut oil and coat your hair, from the ears down, and use a wide tooth comb to get thru tangles. Start from the bottom, then go up! and



Get rid of any rubber bands:

If you want to put your hair up, use a soft (small not an 80's florescent scrunchy) scrunchy type of material or look for the no snag ones.



Cut the chemicals:

no more dying your hair with ammonia and peroxide. Try using henna, which has been a wonderful product for me. I will soon have a whole post dedicated to the wonderful world of Henna. :)



Use Heat Sparingly:

I am someone who has a hard time with this. Once I week I like my hair straight. I hope to cut this out eventually. Heat is VERY damaging to your hair. If you must use heat, use a product called "VITACREME" prior to blowdrying. It protects your hair from extensive damage.



Treatments:

Once a week an deep conditioning treatment is needed.

Great natural products/oils I have used and loved

jojoba oil
Camellia oil
coconut oil (everyone's #1 favorite)
olive oil
shea butter
argan oil

There are a lot of different oils you can use. With oil you should saturate your hair from ears down in it and leave it in overnight. In the morning wash with shampoo and lightly condition. Your hair will be restored soft and shiny!

Coconut:

another wonder product! Great to use for hair and skin care.


Oil Shampoo
http://forums.longhaircommunity.com/showthread.php?t=65063

clarify your hair with a mild clarifying shampoo (do this only the first time)
mix coconut oil with a simple shampoo (the milder the better, I prefer Dr Bronners castille soap). start with equal parts and adjust as you go
While the shampoo is in your hair, add a small amount of additional oil to the ends if needed
Rinse thoroughly.
Follow up with an acidic rinse, Apple cider Vinegar, if needed because of hard water or a soap-based shampoo like Castile or shampoo bars (I skip this step, my hair does not like acid rinses)
Additionally, you can use oils, light conditioners, etc. as long as they will wash out with the next shampoo. I prefer VO5 Strawberry milk conditioner, the smell is GLORIOUS, and I use a lot of conditioner, and this bottle is usually less then a dollar.

Coconut
milk hair treatment


Apply as much coconut milk (canned and not light) to your dry hair as your hair will absorb. Make sure to work it in really well. Top it with a shower cap (or plastic bag) and a turban or towel. Apply heat for as long as you can manage (heat cap, hot towel, blow fryer, forced air heating vent - LOL). Shampoo out with a gentle shampoo and follow up with your regular conditioner or detangler. Style as usual. Also may add Avocado Oil



Snowy's Fave Moisture Treatment


http://forums.longhaircommunity.com/showthread.php?t=128

1 part Fave conditioner (must be moisture), mine is VO5-Sun Kissed Raspberry.
1/4 part honey
1/4 part clear aloe vera gel (I use Fruit of the Earth).

Place in a cup and warm in microwave for 10 to 15 seconds--just until warm. Wash hair and squeeze out excess, blot dry, leave in under heat cap, warm towels or shower cap, what have you, for an hour or so. Rinse well. Finish (add leave-in if you do so) and style as usual.







Cocoa Butter hair crème


1oz sweet almond oil
2oz jojoba oil
8oz cocoa butter
Essential oils of your choice

Combine all ingredients, and stir well. Pour into sterilized jars and let sit until it solidifies. It will have the consistency of soft butter at 70 degrees. Melt a small amount in your hands and use on wet or dry hair to keep ends soft and free of splits. A little goes a very long way! Keep in a cool place or it will melt.



Avocado
Avocado is a wonder product, I may post a special tribute to it, for now, in hair care:

Make sure the avocado is really ripe, otherwise it doesn't work as well. I prefer a hand mixer to make it all nice and gooey. Don't throw out the avocado skin.....I found a skin moisturizing and exfoliating treatment in a book....when you have used the inside of the avocado, rub the inside of it on the skin on your face, then use the other side to exfoliate. Leave it on the face and neck for about 30 min



Different conditioning treatments using fresh avocado:





Recipe:

raw egg, Avocado, yogurt and Virgin olive oil



Recipe:

Push a very ripe avocado through a mesh colander (twice), and add some aloe vera extract. Put it on damp hair and covered it with cling film and a towel to keep warm and to keep it from drying.



Recipe:

Avocado + coconut cream = super soft hair



Recipe:

Olive oil, Ripe Avocado, Mayo



Recipe:

honey, organic avocado oil, and a few drops of tea tree Essential Oil and my hair looks and feels softer and healthier



Recipe:

Avocado + homemade mayonnaise with sesame oil.
But, when I mixed 1 can coconut milk, 1 smashed ripe avocado and about 1/4 cup honey, I left it in for an hour to hour and a half and HOLY **** my hair has never been that soft and smooth in my life!



Recipe:


1 avocado
1 tablespoon honey



To make it heavier:


1 avocado
1 tablespoon honey
2 tablespoons extra virgin olive oil



Procedure:

put avocado in blender; add olive oil, use on wet or dry hair, cover head with plastic wrap, leave on for 1 hour. Wash hair as usual!! I left it on for an hour and a half!!!



Procedure:

Mix it in a blender. Start by putting a little bit of olive oil in the bottom of the blender. Then add a couple of tablespoons of mayo. To that, add an entire avocado. Blend it until looks like some sort of green cream. In order to get it creamy, the avocado MUST BE ripe!!!



Procedure:

put avocado in blender; add olive oil, use on wet or dry hair, cover head with plastic wrap, leave on for 1 hour. Wash hair as usual!! I left it on for an hour and a half!!!



Skip the chemical ridden products:

you will have less build up and less of a reason to wash!
I am someone with wavy hair so occasionally I will use hair sprays/gels/mousse. But the next morning, I ALWAYS regret it. I have started to use 100% pure aloe Vera gel (the clear kind) to place down my flyaways and strays- and I have to admit, it is great to use as a styling aid.



Misters:

You know those spray bottles you can buy at the dollar store for plants? Buy one and use it for your hair and face. My latest concoction is rose water, orange blossom water, coconut oil and jojoba oil. My hair loves to be hydrated and moist. Just like my face! :)



Beach Wave Mister

: Vo5 strawberry cream conditioner..nexus hair gel...aloe vera...friz ease serum...water...and pinch of sea salt. This makes perfect beach wave hair... but you will need to wash the next day!



Learn to embrace your natural hair and type.

Stop trying to force your hair to conform to a style it doesn't want to be in. Change is fun, however, and long hair is not for everyone, but the texture is important to keep in good shape!