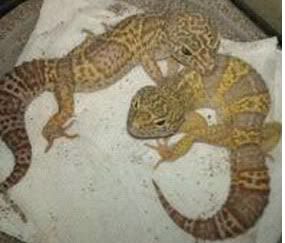 I am very fond of the leopard gecko. They are gorgeous lizards that are very docile and friendly and are fairly easy to care for. Once you own a lizard, they will hold a special place in your heart. Watching them stalk and eat their prey is very entertaining. As long as you have their tank and diet in the right conditions, they can live to be as old as 18 YEARS OLD!
I currently have 2 geckos, and depending on my current addiction, I might plan to accumulate as many as space allows. The female, Xena, pictured on the right, is the Albino Rainwater morph. Rex, the male, is pictured on the left, he is a Tremper Albino morph. I originally had my two in the tank together but have since separated them as I dont think I am into breeding them as it can cause harmful conditions to them.
There are many different colors/morphs available and some are so GORGEOUS it is unbelievable!
Thanks to Geckoetc.com for these gorgeous pictures, check this website out! I hear rave reviews on the purchasing of his reptiles, He ships them to you. His website also has great information
on the care-taking of these lizards!
Unfortunately, I was misinformed by the pet store employees about using the substrate called "calcium sand". After a week of using that sand my boy Rex suffered something potentially fatal caused a Prolapse. Apparently this product is fatal and can cause impaction and death in the gecko. I am currently working on a campaign and petition against the use of calcium sand being promoted for use in leopard geckos. Stay tuned for an update regarding this campaign. Feel free to comment on any questions you have!